Browsing all articles from July, 2011
Press Release: RIM Introduces New (touch) BlackBerry Bold Smartphones
Published on May 2nd, 2011
Written by: Robb Dunewood
Today at BlackBerry World Research in Motion announced the new touch BlackBerry Bold 9900 and 9930, the first full QWERTY keyboard BlackBerry devices with a touch screen, and, are expected to ship this summer.  Both the Bold 9900 and 9930 will run RIM's newly renamed BlackBerry operating system, BlackBerry 7, and at only 10.5mm thick, the new touch BlackBerry Bold devices are  the thinnest BlackBerry devices to date.
Press Release
RIM Introduces New BlackBerry Bold Smartphones
New BlackBerry Bold 9900 and 9930 Smartphones are the Thinnest and Most Powerful BlackBerry Smartphones yet, Featuring the Renowned BlackBerry Keyboard Together with a Brilliant Touch Screen and the New BlackBerry 7 OS
Waterloo, ON – Research In Motion (RIM) (NASDAQ: RIMM; TSX: RIM) today unveiled two new BlackBerry® Bold™ smartphones. The high-performance BlackBerry Bold 9900 and 9930 smartphones feature a stunning and iconic design that integrates an incredibly easy-to-use BlackBerry keyboard with a brilliant, high resolution, capacitive touch screen. These exceptional smartphones are built on a new, performance-driven platform powered by the BlackBerry® 7 operating system and designed to deliver the ultimate in communications, multimedia and productivity for users around the world.
"The new BlackBerry Bold smartphones and BlackBerry 7 OS are inspired by millions of customers around the world who want the ultimate combination of performance, functionality and style," said Mike Lazaridis, President and Co-CEO, Research In Motion. "These fully-loaded and beautifully crafted smartphones offer a highly refined user experience with blazingly fast performance, a brilliant touch screen and an outstanding typing experience."
Thin, Sleek, Iconic Design
Distinguished by an iconic design and the industry's best keyboard, the BlackBerry Bold 9900 and 9930 smartphones feature the premium materials and finishes that characterize the BlackBerry Bold line. Both models have a lustrous exterior with a brushed stainless steel frame and a high-gloss glass-weave backplate. They are also the thinnest BlackBerry smartphones yet, at only 10.5mm. The quality materials and optimized design of the new BlackBerry Bold smartphones are instantly evident when held in the hand.
Performance-Driven
These BlackBerry Bold smartphones are built on a new performance-driven platform featuring a 1.2 GHz processor, Liquid Graphics™ touch screen, and support for high speed 4G/HSPA+ wide area wireless networks.
The Liquid Graphics touch screen, a key new feature powered by BlackBerry 7, delivers fast, smooth performance for highly responsive touch-based navigation, web browsing, pictures, video and graphics intensive games*. Offering up to 60 frames-per-second performance with instant UI action/response, Liquid Graphics gives customers a visually rich and immersive experience that's responsive to the touch. In addition, the smartphones feature brilliant displays with an eye-popping 287 dpi to deliver crisp, stunning visuals.
The new platform also provides support for 4G networks; the 9900 supports HSPA+ connectivity, and the 9930 supports CDMA EV-DO Rev. A and HSPA+ global roaming on GSM/UMTS networks.
NFC
The BlackBerry Bold 9900 and 9930 smartphones include built-in support for NFC (Near Field Communications), a new technology that will enable many rich and exciting experiences. Through NFC, users will be able to, for example, pair the BlackBerry Bold to an accessory or read information such as a web link from smart tags by simply tapping their BlackBerry Bold to an NFC tag (eg. Smart Poster).
Augmented Reality
The BlackBerry Bold 9900 and 9930 smartphones feature a built-in compass (magnetometer) to support location-based services and augmented reality. APIs will allow third party developers to take advantage of the new functionality within their applications. The new smartphones will also include Wikitude, the leader in mobile augmented reality, which overlays contextual information on what the user sees through the smartphone's camera viewfinder.
HD Video
The new BlackBerry Bold 9900 and 9930 smartphones support up to 720p HD video recording and playback. Users can easily share their videos directly from the smartphone or sync videos, as well as music and photos, to their computer using Media Sync in the BlackBerry® Desktop Software.
BlackBerry 7
The BlackBerry 7 OS is designed to power the new performance-driven BlackBerry Bold platform. It provides an easier and faster user experience with improved browsing, voice-activated searches, the ability to manage personal content separately from corporate content, as well as additional personal and productivity apps out of the box.
The BlackBerry Browser has been significantly enhanced in BlackBerry 7. In addition to the general performance gains of Liquid Graphics, which helps deliver faster rendering and seamless panning and zooming, the BlackBerry 7 browser includes a new JIT (just in time) JavaScript compiler to improve the load time speed of web pages. The new browser also includes support for additional HTML5 elements, such as HTML5 Video.
Building upon the Universal Search feature introduced in BlackBerry 6, BlackBerry 7 expands the capability to include voice-activated search. This new capability makes it even easier and more convenient to search for content on the smartphone or web.
BlackBerry 7 also integrates BlackBerry® Balance™, which separates personal content from corporate content on the smartphone, giving users the freedom and flexibility to use the handset for personal email, Facebook®, Twitter®, multimedia, games and other apps while satisfying the very real need for corporate data to be highly secure and manageable. BlackBerry Balance works in conjunction with BlackBerry® Enterprise Server 5.0.3, which provides a number of unique IT policy controls such as wiping only corporate data from the handset or blocking work related content and apps from being copied or forwarded to personal contacts.
With BlackBerry 7 on the BlackBerry Bold 9900 and 9930 smartphones, users will also get the full version of Docs To Go® with all "premium" features enabled out-of-the-box so that users can easily work with Word, Excel and PowerPoint files directly on the smartphone. Docs To Go also includes a native PDF viewer.
Availability
The new BlackBerry Bold 9900 and 9930 smartphones are expected to be available from carriers around the world beginning this summer.
For additional information please visit www.blackberry.com/touchbold
APPENDIX
BlackBerry Bold 9900 and 9930 Specifications
• 115 x 66 x 10.5 mm, approximately 130 g
• 2.8″ capacitive touch screen display – VGA (640×480), 287 dpi resolution
• Ultra-easy QWERTY keyboard, optical trackpad
• 1.2 GHz Processor, 768 MB RAM
• 8 GB on-board memory, plus microSD slot supporting up to 32 GB cards
• NFC technology
• 5.0 MP camera, supports 720p HD video recording
• Orientation Sensor (Accelerometer), Digital Compass (Magnetometer), Proximity Sensor
• Built-in GPS / aGPS
• Dual-Band Wi-Fi® – 802.11 b/g/n at 2.4 GHz and 802.11 a/n at 5 GHz
• Bluetooth® 2.1+EDR support
• Wireless Network support:
o 9900: Tri-Band HSPA+, Quad-Band GSM/EDGE
o 9930: Dual-Band CDMA/EV-DO Rev. A, Dual-Band HSPA+, Quad-Band GSM/EDGE
• 1230 mAh removable, rechargeable battery
• BlackBerry 7 OS
* Features OpenGL 2.0 support for developers.
Los invitamos a visitar nuestro sitio web  http://www.solucionesdebolsillo.com
Categories: BlackBerry News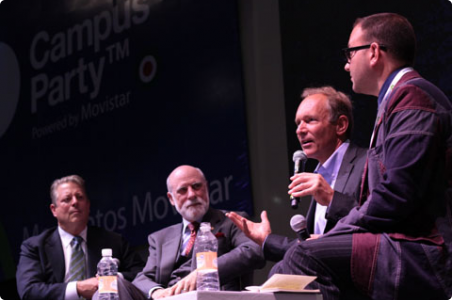 Muchos llegaron hasta dos horas antes a apartar su lugar. Otros, simplemente se amontonaron lo más que pudieron cerca del escenario, para poder escucharlos. Y es que como muchos apuntaban, fue una reunión histórica.
Vinton Cerf y Tim-Bernes Lee, conocidos como los "padres de internet", junto con el ex vicepresidente de Estados Unidos, Albert Arnold Al-Gore, llegaron a la Campus Party –un campamento tecnológico que se celebrará en la ciudad de México hasta el 24 de julio– con un mensaje: promover el uso libre del web.
Cuando cree parte de lo que hoy es el Internet, no tuve que pedirle permiso a nadie. Han pasado muchos años desde entonces y hasta apenas hace poco hemos empezado a entender el verdadero alcance que tiene: la libertad de uso. Eso es lo que realmente vale la pena discutir", inició Bernes-Lee, quien se ha caracterizado por su entusiasmo por alentar a los jóvenes a desarrollar innovaciones.
Pero fue Cerf quien desató las primeras ovaciones, al asegurar que lo que hoy vemos en Internet no es mas que una porción de lo que será en el futuro:
todos ustedes tienen la misión de inventar lo que viene", dijo.
Se trata de un gran reto, considerando que en muchos países, es cada vez mayor la restricción que tiene Internet, amén de que han aumentado los intereses comerciales de muchas empresas privadas y gobiernos, también en el web.
Eso de que a través de empresas como Apple o Google o las redes sociales nos están vigilando, o que los gobiernos controlan a la gente vía web, son frases que sólo caben en la ciencia ficción. El Internet y su alcance es mucho más que eso", dijo Cerf, tras la pregunta de un moderador –de casi 10 minutos—que le sugirió esta posibilidad.
¿Qué es lo que realmente nos debe importar del Internet? Bernes-Lee le arrebató la palabra a otros para adelantarse a la respuesta.
La prioridad es que logremos que Internet sea un lugar seguro para todos. Eso de defender los derechos de autor y de que nos vigilan en el web no es relevante", dijo Bernes-Lee.
EL VALOR DEL WEB
¿Y qué opina Al-Gore de todo esto? También logró sus minutos de popularidad y desató aplausos, al incentivar a los asistentes, con su tono acostumbrado de político, a defender al Internet a capa y espada.
El verdadero valor de Internet es que es el arma de la democracia. Todavía hace poco, teníamos que conformarnos con lo que nos dijera la TV y la radio, que siempre oculta grandes intereses comerciales, y con los manejos políticos de la información. Hoy, con el Internet, tenemos forma de ver más allá, de opinar, de detectar qué es falso y sobre todo, de crear nuevas fuentes de información", dijo Al-Gore.
Los aplausos que le llovieron después de esta declaración vinieron de los cientos de medios que estaban ahí, cubriendo la charla y transmitiéndola en vivo, tanto en TV como en Internet, amén de un par de políticos mexicanos, que llegaron al encuentro.
¿Qué va a pasar con el Internet en el futuro?
¡No tengo la menor idea!" dijo divertido Bernes-Lee. /blockquote>

En tanto que Cerf, quien todo el tiempo hizo bromas con su acostumbrada pose de científico serio, al asegurar que

Seguramente todo será mucho mejor… de eso no tengo duda".

LOS PADRES DE INTERNET

Vinton Cerf. Científico estadounidense que fue bautizado como uno de los padres de Internet –por el científico Bob Kahn—por crear la tecnología TCP/IP, la cual hizo posible la creación de lo que hoy conocemos como Internet. Ha sido galardonado y premiado cientos de veces, incluyendo la Medalla Nacional de Tecnología y el Turing Award. Formó parte del DARPA –la Agencia de proyectos avanzados de investigación del Departamento de Defensa de Estados Unidos–, creó el ICANN, el organismo que administra todos los nombre de dominio del Internet, y desde el 2005, funge como evangelista del web dentro de Google, en donde ocupa el puesto de vicepresidente.

Sir Tim Bernes-Lee. Científico inglés, conocido como "TimBL", creó el World Wide Web (o el www) y la fórmula del "HTTP" que todos hemos usado para teclear una dirección de Internet. Actualmente es director del World Wide Web Consortium (W3C), que incentiva el desarrollo constante del Internet, además de que ocupa otros puestos honorarios y activos en diferentes instituciones científicas como el MIT. Fue nombrado "sir" en el 2004 por la Reina Elizabeth II, entre muchos otros reconocimientos internacionales que sigue recibiendo.

Albert Arnold "Al" Gore. Fue vicepresidente de Estados Unidos en el gobierno de Bill Clinton (1993-2001). Se le considera uno de los principales promotores del uso del Internet en Estados Unidos, al hacer obligatorio su uso en todas las escuelas. Actualmente, lleva una trayectoria de activista del medio ambiente con varios proyectos que han tenido vida en Internet, como el "The Climate Reality Project.org" presentado en la Campus Party México. También es una personalidad muy premiada: obtuvo el Premio Nobel de la Paz en el 2007 y ha sido nombrado Hombre del Año en varias ocasiones.

Los invitamos a visitar nuestro sitio web  http://www.solucionesdebolsillo.com

Credito: El Economista  Fotografía Mario Hernandez.
No fue hasta hace pocos años que mucha gente, empezó a acabar con las líneas telefónicas tradicionales y empezaron a confiar únicamente en sus teléfonos celulares para las llamadas, Claro que esto marco un cambio fundamental en la forma de vida.
Ahora, lo mismo podría estar en marcha con sus conexiones a Internet.
Un nuevo estudio realizado por Pew Internet y American Life Project concluye que no sólo los teléfonos inteligentes se multiplican como Tribbles, sino tambien que un número creciente de personas utilizan los teléfonos como dispositivos de acceso principal a Internet.
Image Source: Daniel Y. Go
Los invitamos a visitar nuestro sitio web  http://www.solucionesdebolsillo.com
By: Kevin McCaney
Galaxy Tab GT1010CWAXAR Samsung
Escrito por: Ricardo Valdés V.
En estos días recibí un muy buen regalo de parte de mi hermano @roloss_valdes así es una Tablet, la realidad es que teníamos la inquietud de comprar unas, pero estábamos muy indecisos de cual.
Estábamos  evaluando entre Ipad y Galaxy, decidimos por la Galaxy simplemente porque ya contamos con Iphone 4 y a simple vista es algo muy parecido el Ipad al Iphone claro varia el tamaño.
No habíamos tenido ningún equipo con Android 2.2 por lo que en estos momentos seguimos conociendo este SO y sus aplicaciones,
Otra de las cosas que me gusto es su tamaño, la verdad es muy manejable.
Ahora el problema es que uso le voy a dar ????   jajajaja.
Aquí les dejo las especificaciones técnicas de este equipo.
Specification:
Camera
Front Camera: 1.3 Megapixel
Rear Camera: 3.0 Megapixel Auto Focus with Flash
Features: Auto Focus, Shot Modes, Smile Shot, Geo-tagging, Editing Modes, Camcorder, HD Recording, HD Playback, Video Share, Online Image Uploading
Dimensions (W x H x D)
7.48 x 4.74 x 0.47 inches
Memory
16GB Internal Memory
Up to 32GB Expandable Memory (microSD™)
Connectivity
WiFi: 802.11 a/b/g/n

USB 2.0

Bluetooth 2.1 Connectivity
Display
7.0″ WSVGA Display
600 x 1024 Pixel Display Resolution
3.54″ x 6.05″ Display Size
16M TFT Display Technology
User Interface
Widgets, Social Hub, Smart Unlock, Accelerometer, Bilingual: Spanish/English
Audio
MP3, OGG, AAC, AMR-NB, AMR-WB, WMA, FLAC, WAV, MID, AC3, RTTTL/RTX, OTA, i-Melody, SP-MIDI
Video
Codec: Mpeg4, H.264, H.263, Divx/XviD
Format: 3gp(mp4), wmv(asf), avi(divx), mkv, flv
Fun and Entertainment
Downloadable Content, Animated Wallpapers, Widget Gallery, Media Hub
Business and Office
Microsoft® Office Compatible
Messaging Options
Personal and Work Email, Instant Messaging, SWYPE™, Video Chat
Ricardo Valdes V.
@ricardo_vv
Cel. 8112207709
Los invitamos a visitar nuestro sitio web  http://www.solucionesdebolsillo.com